Living in Camarillo, CA
Posted by TotalSoCalHomes.com (TSCH) on Wednesday, November 15, 2023 at 9:00 AM
By TotalSoCalHomes.com (TSCH) / November 15, 2023
Comment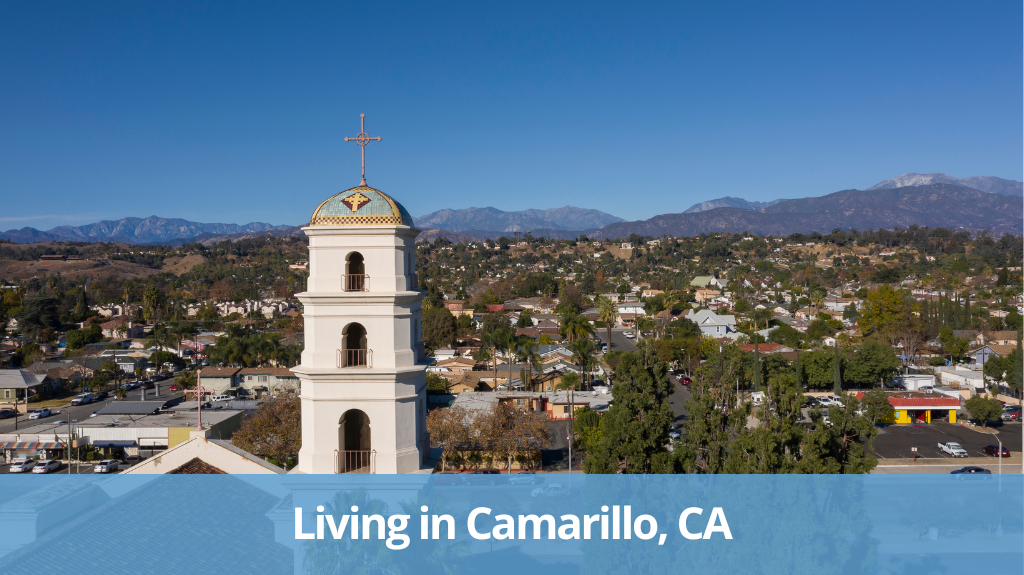 Camarillo, a radiant gem in the heart of Ventura County, presents a blend of classic charm and contemporary vibrancy. Wrapped in the sun's embrace, its streets are alive with stories old and new. For anyone mulling over the idea of living in Camarillo, CA, this place promises a life full of color and adventure.
What To Know About Living in Camarillo, CA
Camarillo is a canvas painted with history, culture, and boundless opportunities. This city, though rooted in its past, stretches its arms wide open to the future. Here's what life in Camarillo looks like.
The Camarillo Essence
Camarillo's essence lies in its blend of old and new. Vintage buildings stand tall next to modern establishments, showcasing a town that respects its past while enthusiastically awaiting its future. The streets buzz with events, bringing the community together, be it a local market or a vibrant fair. More than anything, it's the people who add soul to the city, creating an atmosphere of warmth and belonging.
The rhythm of Camarillo is easy-going, unlike the hurried beats of mega cities. Here, families can revel in the joy of community parks, while individuals can discover quaint cafes that become their second home. Local festivals, cultural parades, and community workshops are common sights, making every day an adventure in its own right.
Yet, beneath this serene surface, there's a pulse of energy. The youth engage in tech startups, artists find inspiration on every corner, and local businesses thrive, making it a melting pot of aspirations and dreams.
Diverse Opportunities
The city's job landscape is as diverse as its residents. From tech startups to sprawling agricultural fields, Camarillo has something for everyone. Educational institutions like CSU Channel Islands provide quality education, acting as a beacon for students from all over.
Moreover, Camarillo's location is a boon. It bridges the gap between serene countryside and bustling cities, offering a unique advantage to its residents. Proximity to bigger Californian cities means better job opportunities and a chance to enjoy urban entertainment without the everyday hustle.
Outdoor Haven
Nature lovers would find Camarillo nothing short of paradise. Its parks and recreation areas are abundant, providing respite from the daily grind. The Mediterranean climate is the cherry on top, allowing for year-round outdoor activities. From hiking trails that offer panoramic views to community parks ideal for family picnics, there's no shortage of green spaces here.
The city is not just about static beauty; it's an active participant in promoting a healthy lifestyle. Sports enthusiasts have a myriad of options, from golfing to cycling. And for those who find solace in more tranquil activities, bird watching or just lounging by the Camarillo Springs can be a weekly ritual.
Pros And Cons to Living in Camarillo, CA
Understanding a place fully means considering both its benefits and drawbacks. Here's a comprehensive breakdown of the pros and cons of living in Camarillo, CA; a gem at the heart of Ventura County.
Pros To Living in Camarillo, CA
Delightful Climate
Camarillo boasts a Mediterranean climate, with mild winters and sun-kissed summers. It's a haven for those who adore consistent, pleasant weather. Residents relish the ability to plan outdoor activities without the frequent disruptions that erratic weather patterns can cause.
Community Bond
The sense of camaraderie in Camarillo is palpable. Neighbors often turn into lifelong friends, and the town hosts numerous events fostering community bonding. Living here means being part of a close-knit family, where people genuinely care about each other's well-being.
Quality Education
With institutions like CSU Channel Islands and several top-tier schools, Camarillo prides itself on its educational offerings. The city ensures that students receive a holistic education, preparing them well for their future endeavors.
Cultural Hub
Camarillo is a melting pot of cultures. Theaters, museums, and festivals are aplenty, offering residents a rich tapestry of experiences. Every weekend promises something new, ensuring that one is never short of entertainment options.
Strategic Location
Nestled perfectly, Camarillo offers ease of commute to major Californian cities. Whether it's for work or leisure, its location ensures that residents spend less time on the road and more with their loved ones.
Reach out for more information and to schedule a tour of neighborhoods in Camarillo, CA. Call or text (310) 564-8084 or contact us today.
Cons To Living in Camarillo, CA
Elevated Cost of Living
As with many parts of California, Camarillo's cost of living is on the higher side. Housing, in particular, can be expensive, making it challenging for newcomers to find affordable homes.
Rush Hour Traffic
During peak hours, the roads in and around Camarillo can get congested. This can extend commute times and sometimes lead to frustration among daily commuters.
Limited Nightlife
For those who thrive in the late hours, Camarillo might feel a tad quiet. While daytime activities are abundant, the city tends to wind down early, offering limited options for night owls.
Seasonal Allergies
Given its agricultural backdrop, Camarillo sees an increase in pollen levels during specific seasons. This can be challenging for allergy sufferers, necessitating a change in daily routines during these times.
Top 3 Attractions in Camarillo, CA
Camarillo Premium Outlets
Camarillo Premium Outlets isn't just a shopping destination; it's an experience. Spread across a vast area, these outlets house over 160 stores, ranging from high-end fashion brands to everyday essentials, ensuring that shoppers of every kind can indulge to their heart's content.
What sets this place apart isn't just the staggering variety of brands or the jaw-dropping discounts, but the entire ambiance. The outlets are designed with pedestrian walkways, ornate lighting, and lush greenery, making every shopping trip feel like a leisurely stroll through a posh boulevard. Adding to the charm are the myriad eateries scattered throughout the outlets. Whether you're craving gourmet coffee, a hearty lunch, or a light snack, you're spoilt for choice. The outlets also host seasonal events and festivals, ensuring there's always a buzz of excitement in the air.
Camarillo Ranch House
The Camarillo Ranch House isn't just a historical monument; it's a symbol of Camarillo's rich cultural past. The Victorian-era house, once the residence of Adolfo Camarillo, stands as a testament to the city's commitment to preserving its history. The majestic white structure, with its intricate woodwork and expansive porches, transports visitors to a bygone era.
The 6,000-square-foot mansion comprises 14 rooms, each telling a unique story of the Camarillo family's life in the late 19th and early 20th centuries. However, the allure of the Camarillo Ranch House doesn't end with its interiors. The property also boasts a stunning rose garden and a barnyard, housing a variety of animals. The ranch frequently hosts public events, from vintage car shows to local farmers' markets, making it a dynamic and integral part of the community's life.
Camarillo Public Library
While libraries are often seen as quiet repositories of books, the Camarillo Public Library redefines this notion. With its grand architecture that seamlessly melds traditional design with modern aesthetics, the library is an architectural marvel in itself. But step inside, and the magic unfolds.
Spanning 65,000 square feet, the library houses a vast collection of books, DVDs, and digital resources. However, it's more than just a place for study and research. It's a community hub, playing host to a plethora of events, from storytelling sessions for kids to art exhibitions and music concerts. The library also boasts a "Friends of the Library" store, where visitors can purchase books and other items, with the proceeds going towards supporting the library's various initiatives. With its serene reading rooms, dedicated children's section, and bustling event calendar, the Camarillo Public Library is a place in Southern California that invites and inspires every visitor, regardless of age.
Frequently Asked Questions – What's it like living in Camarillo
1. How does the living cost in Camarillo, CA compare to other places?
Well, Camarillo does have a cost of living that's a bit higher than some other places in the U.S. But then again, many folks feel the extra amenities, peace of mind, and quality of life make it worthwhile. It's all about what you're looking for!
2. Can I expect sunny beach days year-round in Camarillo?
Mostly yes! Camarillo rocks a Mediterranean vibe with its climate. Think gentle winters with a splash of rain and warm summers. On average, the sun's out and shining for over 270 days a year here.
3. I've got kiddos. How are the schools in Camarillo?
You're in luck! Camarillo prides itself on having some top-notch schools, both public and private. The emphasis on education here is evident. And for the older ones, California State University Channel Islands is just around the corner.
4. What's the work scene like in Camarillo?
Diverse, for sure! From education and health care to retail and manufacturing, there are opportunities. And if you can't find the perfect fit in town, some residents hop over to nearby cities, given Camarillo's sweet spot on the map.
Conclusion – Living in Camarillo, CA
To live in Camarillo, CA, is to embrace a life of balance. A place where history seamlessly blends with the present, where urban comforts meet nature's bounty. For those in search of a place that offers both tranquility and vibrancy, Camarillo is a promise of a life well-lived.
Contact a Real Estate Agent to Tour Neighborhoods in Camarillo, CA